Cabin is a privacy-focused web analytics tool that prioritizes user anonymity and sustainability. It is designed to provide accurate analytics without the use of cookies or data sharing with third parties. Cabin's unique data model ensures compliance with privacy laws worldwide and protects visitor data through end-to-end encryption.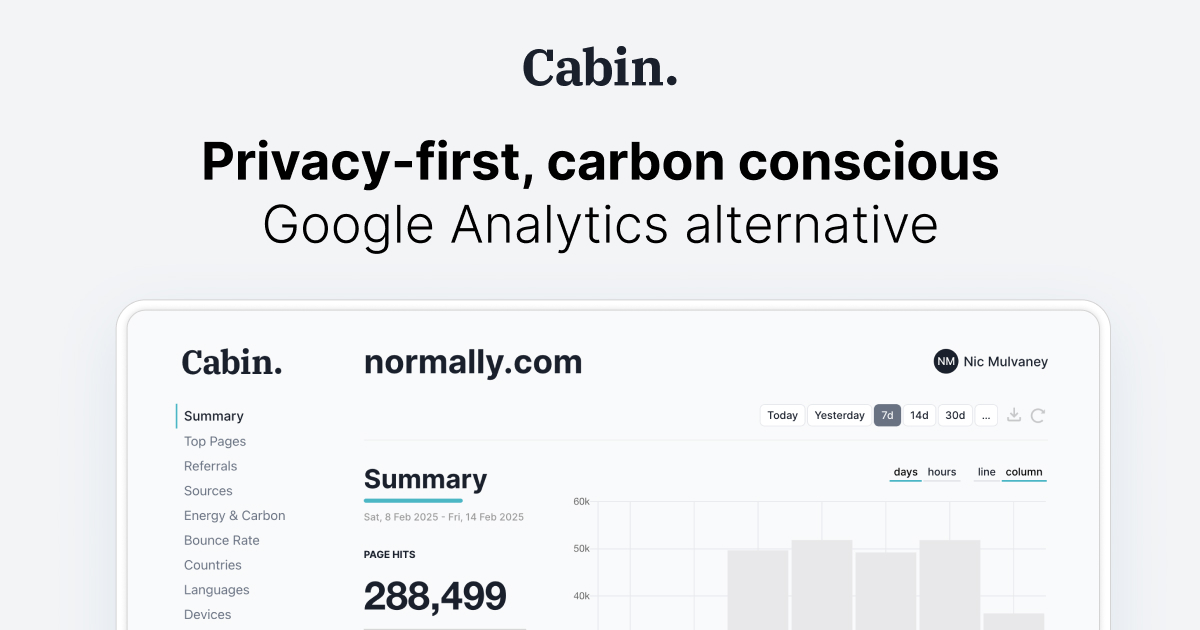 Key Features
Privacy by Design: Cabin's data collection and storage methods make it impossible to identify individual visitors. It does not store IP addresses, unique identifiers, or browser fingerprints, ensuring complete visitor anonymity.
Cookieless Analytics: By removing cookies, Cabin ensures privacy by default for all website visitors. This approach leads to more accurate analytics compared to other services that rely on opt-outs and ad blockers.
No Data Sharing: Cabin does not share data with advertisers or third parties, guaranteeing the privacy of user information. The way data is stored makes it unusable for advertising networks, providing additional protection against targeting.
Lightweight and Fast: Cabin's analytics script is significantly smaller than Google Analytics, resulting in faster page loading times. This not only improves user experience but also reduces data transfers and energy consumption, making Cabin one of the most environmentally friendly analytics tools available.
Planet-Friendly Infrastructure: Cabin uses sustainable cloud infrastructure, ensuring that 100% of its electricity consumption is matched with renewable energy sources. The platform also optimizes its compute footprint and leverages resource-saving serverless technologies to further reduce electricity usage.
Carbon Footprint Tracking: Cabin helps website owners measure their website's carbon footprint over time. It identifies high-energy-consuming pages and provides insights and recommendations for improvements, allowing users to make their websites more environmentally friendly.
Beautiful Dashboard: Cabin offers a clear and concise dashboard that requires no training to navigate. Developed by the team at Normally, the dashboard is feature-packed and provides detailed analytics on various metrics such as domains, visitors, events, campaigns, and more.
Pricing
Cabin offers a free plan to get started, allowing users to explore its features and benefits.
Who Should Use Cabin
Cabin is ideal for website owners and businesses that prioritize user privacy and sustainability. It caters to individuals and organizations that value accurate analytics while maintaining compliance with privacy laws and reducing their carbon footprint.